The countdown is on: Valentine's Day is only one day away and if you're one of the many single people out there who are planning to stay home all day so you don't have to witness all of the sappy couples outside in the real world, well, continue reading. Screw everyone in love, being single rocks! The best part about it is you're not alone! I mean, just look at all of these sexy single celebrities who are in the same boat as you:
1. James Franco
James Franco = hunk. He's funny, talented, and kinda weird. What a package ;)
2. Selena Gomez
We all know Selena Gomez recently dumped Justin Bieber and I think we can agree that it was a good decision. Now that's a reason to smile!
3. Ryan Gosling
Okay, there's been rumours that Ryan Gosling is back together with Eva Mendes but let's just pretend he's single because it will make us a lot happier.
4. Anna Kendrick
Anna Kendrick is the coolest girl around. She also dated Edgar Wright, which is also really cool but who needs a hot-shot director anyway? Anna's single and makes awkward look good.
5. Donald Glover
Acting on Community and performing as Childish Gambino…Donald Glover can do no wrong. And yes ladies, he's single.
6. Rachel McAdams
Rachel McAdams has got to be the most eligible bachelorette. She recently split from Michael Sheen and we couldn't be happier to welcome her into our singles club.
7. George Clooney
George Clooney is like the ultimate single dude in Hollywood. He may always be seen with arm candy but he's never settled down. And ya know what? He wears single pretty well.
8. Rihanna
Bad Gal Riri makes being single look fun. She's badass, sexy, and can sing a killer pop song. So you're starting to feel good about being single on V-Day now, right?
9. Jay Baruchel
We can't complain that one of our fave Canadian actors is single. And he's definitely not female kryptonite.
10. Kristin Wiig
It was hard not to like Kristin Wiig with The Strokes drummer Fabrizio Moretti but if they didn't break up then this would have never happened:
11. Frank Ocean
Wouldn't you like Frank Ocean to serenade you? Yes, yes you would.
12. Hilary Duff
Hilary Duff recently announced her separation from Mike Comrie so I guess she's not technically single…yet. She's working on a new album so maybe the single life will do her well. But let's never forget this classic:
13. Aziz Ansari
Aziz Ansari wouldn't have been able to get material for his latest stand-up special Buried Alive if it wasn't for him being single. #WINNING
14. Zoe Kravitz
After Drake posted this on Instagram, rumours were flying that he was dating Zoe Kravitz. But what's single life if you're not dating around, right!?
15. Liam Hemsworth
Liam Hemsworth has been living the single life ever since his split with Miley but he's been spotted with a few ladies like Nina Dobrev. Now ya can't do that when you're stuck in a relationship!
16. Taylor Swift
T-Swift has been flying under the radar lately when it comes to guys, which means she's got more time for her bffs.
17. Drake
So Drake might be dating Zoe Kravitz or Jhené Aiko but we're going to pretend that isn't happening and just stare at this:
18. Mindy Kaling
Mindy Kaling just graced the cover of Elle and is killing it on The Mindy Project. Single girls got it goin' on!
19. Joseph Gordon-Levitt
Joseph Gordon-Levitt is single. Joseph Gordon-Levitt is single. Joseph Gordon-Levitt is single.
20. Steven Yeun
The Walking Dead is great and Steven Yeun makes it greater.
21. Malin Akerman
Malin Akerman is probably upset about her divorce from Roberto Zincone but sometimes you just have to do a victory dance and be happy to be single.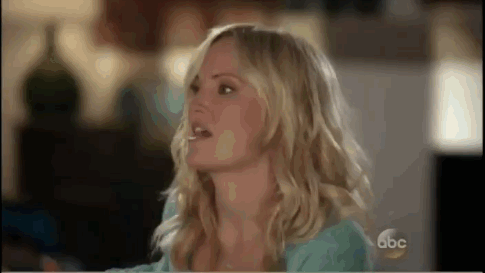 22. Ian Somerhalder
If you need one more person to make you feel good about being single it's Ian Somerhalder. Those eyes. That hair. That pizza. It's all single.
Tags: Anna Kendrick, Aziz Ansari, Donald Glover, drake, Frank Ocean, george clooney, hilary duff, Ian Somerhalder, James Franco, Jay Baruchel, Joseph Gordon-Levitt, Kristin Wiig, Liam Hemsworth, Malin Akerman, mindy kaling, Rachel McAdams, rihanna, ryan gosling, selena gomez, Steven Yuen, taylor swift, valentine's day, Zoe Kravitz
Posted on Thursday, February 13th, 2014 at 3:32 pm by Simone and is filed under Blog.
Related Articles: