Honestly, there was nothing super about the Super Bowl on Sunday. Watching some big ol' men throw a football around? Super boring.
All the action was on the Animal Planet channel where the 10th annual Puppy Bowl kicked off. It was pretty awesome, especially if you were the referee (um, where can I apply for the job next year?).
Because Bruno Mars had prior commitments, the Puppy Bowl invited the Keyboard Cat for a phenomenal half-time performance.  It was paws down the best I've ever seen! And it didn't stop there. Penguins were called upon as the cheerleaders of the big game.
And the old English sheepdog named Ginger won MVP! Take that, Manning!
The first annual Kitten Bowl was complete purrrfection (sorry, couldn't resist!) on the Hallmark Channel airing the same day.
For three hours we got to see the cutest little kitties with appropriate football names frolic on the field. There was Terry Bradclaw, Feline Manning, and Tomcat Brady to name a few.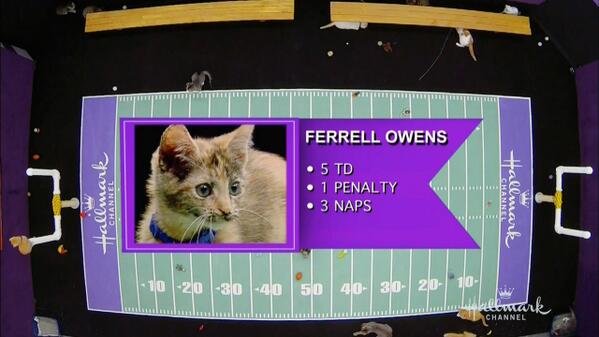 MVK, Most Valuable Kitten, was a tie between Ferrell Owens, as shown above, and Snowball, the white cat below.
Not quite as exciting as the former, National Geographic aired their Fish Bowl to mixed reviews, mainly because it was just a fish. In a bowl. Doing nothing. Jeez, at least have a mouse or something perform the half-time show!
Posted on Monday, February 3rd, 2014 at 5:32 pm by Natalia Buia and is filed under We <3 TV.
Related Articles: