So Halloween is only one day away and I AM STRESSED OUT. I still don't have a cool costume, I haven't carved my pumpkin into something artsy and relevant, I haven't bought any Halloween candy and I don't even know what I'm doing Thursday night. Is there any other holiday that is as stressful as Halloween? The answer is "No." All of this stress makes Halloween annoying, so here are the 10 Most Annoying Things About Halloween.
1. When you've eaten all of the good Halloween candy and all you have left are Rockets. :(
2. When you think of the best Halloween costume but your friend says "It's been done."
3. When your office has a Halloween party and you have to awkwardly mingle with your co-workers in your costume.
4. When Halloween falls on a Thursday and you have to celebrate on both weekends. :(
5. When you think your costume is so unique and you go to a Halloween party and see someone dressed up in the exact same thing. And they did it better.
6. When you go trick-or-treating and someone gives you raisins. RAISINS!
7. When your Mom dresses up for Halloween and her costume is way too sexy.
8. When you go trick-or-treating and your Mom makes you wear a jacket over your costume.
9. When you go trick-or-treating and you get a can of pop and you're all like "YESSS, I'm the luckie…" and then it's so heavy your bag breaks. :(:(
10. When you realize it's impossible to go to the washroom in your Halloween costume.
Halloween is annoying but at least we have the candy…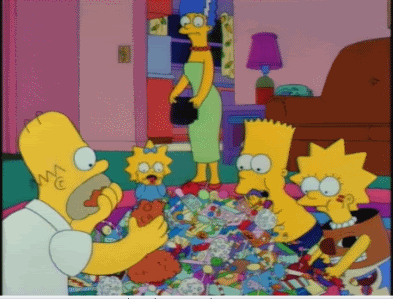 Happy Halloween!
Posted on Wednesday, October 30th, 2013 at 1:33 pm by Simone and is filed under Blog.
Related Articles: